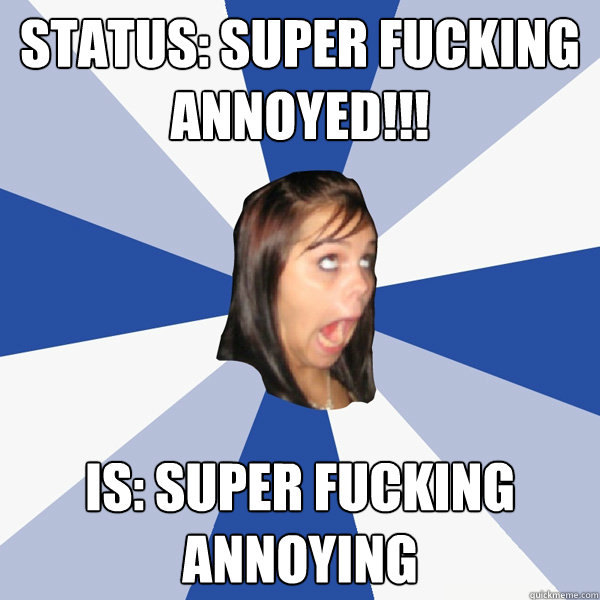 There are things that annoy me. Yup. These are five of them. Look man, I'm tired.

Open Fly Boxers

I like how it's this giant ripped up body, then nothing…well…there. I bet this guy doesn't mind these. If you know what I mean.
So you're sitting around in your boxers (ladies you know what I'm talking about) and your stuff flops out. You're all "sonuva guffmagpffufgrrblblbll" or whatever and quickly try to adjust and you seal it closed with the dinky ass little button that's on there…which seems to do absolutely nothing at all because literal seconds later, flop! Out again.
Now I suppose these might be convenient if, say, you wore suit pants with a belt 24/7, but if you're just derping around at home on the couch watching TV or whatever, these SUCK. I mean, what, you can't make a button that ACTUALLY buttons? It's a joke, it really is. I mean, why not just make it where there's a bunch of arrows pointing to the crotch and every time the button comes loose a little jingle plays or something I don't know IT'S ANNOYING, NEXT.
Ohio Weather
I'm sick. In fact, I've BEEN sick since about October. Now, it's true that I'm 30 and I'm getting old and I…well, Alzheimer's. Anyway, sure, I'm getting older, but why am I getting sick so much and for so long? At first I thought it was the call center environment, but I think there's more to it than that. Here's how Ohio weather has been lately: in the same day, it's been bright and sunny like a spring day, then rainy, then fine again, THEN SNOWING.
It's like Captain Planet hates Ohio. I'm convinced that there will be a day in July where I go to the pool, jump off the diving board into relaxing cool water, then upon my attempted ascent from the water to the air, BE CAUGHT UNDER ICE BECAUSE OHIO WEATHER, FUCK ME. I mean, there's some areas where it's perpetually hot, perpetually cold, or whatever, but Ohio just does not make sense…ever.
Youtube Advertisements

So THAT'S why it smells like jet fuel…
This is an easy one. So you're sitting down to watch a 30 second clip and a 2 minute advertisement pops up. At first, you can skip 'em, but eventually you can't. And it may not happen with EVERY video, but it usually happens with the ones you WANT to watch. I've said this for years now…why not just have adverts on the sides, top, bottom, pop-ins, etc.?
I mean, it's not like youtube isn't making money here. Just by having pop-ins on every single goddamn video alone, it ensures that regardless of whether you're watching on youtube or not, their sponsors are paying them buckoo fucking dollars. And honestly, I don't mind pop-ins, I just HATE the pre-video required viewing adverts. Seriously, if I just want to watch a cat jump in a box, I DON'T CARE ABOUT HOW AXE SHAMPOO CAN MAKE ME AN ASTRONAUT OR WHATEVER.
Doing The Dishes
This is going to seem petty. And it is. Having a dishwasher MIGHT help this, but not entirely because…well, I'm getting ahead of myself. I don't mind doing the trash. I just condense the trash cans into the main trash can, bag it up, take it out. Simple, quick, easy. I don't mind doing the laundry OR putting it away. Many of the tasks involved in doing laundry are simple AND can be used for additional multitasking (i.e. a load is in the dryer and washer AND I can play videogames at the same time).
But the dishes…ohhhhh, the dishes. Firstly, they require your eternal focus. You can't be doing anything else while doing the dishes. They're also time-consuming and often require you let stuff soak first, which may or may not work with some deep stains and shit. And finally, there's so much shit you need that CONSTANTLY breaks down or runs out (scrubbers, soap, bleach, etc.) that it's fucking ridiculous…it's just a constant pain in my ass.
Shoes That You Have To Tie (AKA Shoes)

BUT AT LEAST YOU DON'T HAVE TO TIE THEM.
Yes, I'm a lazy bastard. For a couple of years, I had these black slip on shoes that looked halfway professional, so I wore them everywhere. They were also a piece of crap and immediately fell apart. Recently, I had to get rid of them, which was a good choice because they were starting to smell something awful and had gigantic holes in them.
I hate…HATE…having to tie my shoes. It's not that I'm not good at it or it takes 5 minutes or whatever, I just genuinely do not like doing something extra to get ready to go somewhere. If I HAVE time to get ready, I can take up to 2 hours. If I don't have time, I like to be able to leave in just a few minutes tops. Tying my shoes is just one additional way to slow my ass down and they never really stay tied, anyway…stupid…dumb…poopyhead shoes…
Conclusion

THIS PAPER IS DELICIOUS.
So. Yeah. Things that annoy me. No, these didn't really deserve a Who Can Go Suck It or whatever, but they're mild annoyances all the same that I just get tired of. And speaking of tired, I might go take a nap.